Rheinlust by Melanie Berg – Pattern Review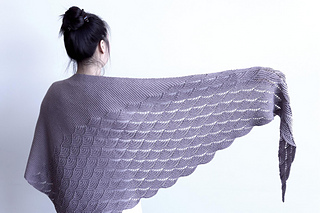 This is a lovely elegant shawl that I have wanted to make for some time. I bought beautiful European Starling yarn from SongBirdFibres. You can see this gorgeous colourway below and I wanted to make a special shawl with it. However that special pattern is now being done in a different colour way and I was concerned that too much busy lace and so much colour would look very confused.
Rheinlust is a shawl that has a lace pattern that tapers off and becomes plain garter stitch. I love patterns like this. They are so elegant and have any easy component to knit as well as a more interesting lace component.
Final review
The pattern is great. There are both written and charted instructions and both are clear and so far entirely accurate. Although a great deal of the lace work is k and then purl with a number of twisted stitches using a ptbl (purl through back of loop) or ktbl (knit through back of loop), I have not found this difficult on my hands. I should note I'm someone who loves the look of moss stitch but not the act of knitting it because of hand pain. So this is really great! A major benefit of this pattern design is that the stocking stitch effect is mirrored on both the right and wrong sides of the knitting. I can also see how adaptable the pattern would be by just redoing the lace in stocking stitch with the appropriate decreases and increases using yarn overs and knit or purl two stitches together.
Issues
My only niggle was that I misread the final row in each of the first two written charts. All increases are kfb (knit in front and then in back through the same stitch) but the final increase is kfbf (knit in front, then in back, then in front again through the same stitch) and I missed it. This is me going to fast and not taking proper care, but it was very confusing and initially annoying. I would have liked the pattern to be aware that it was a potential problem point and put a helpful note in stating that the last increase in each pattern repeat was subtly different.
How long will it take?
It took me about 75 hours to knit. I changed yarn every 5 – 10 rows using a fisherman's knot or magic knot so only had the cast on and bind off end to sew in. Because half the shawl is in garter stitch blocking was relatively straightforward and only took an hour to pin out. Drying time was 24 hours. You will need to block this shawl to really experience the beauty of the wave pattern. My unblocked shawl (below) was lovely, but the blocked shawl (shown at start of Final Review is ethereal and drapes in all the best ways.
Although the pictures on the pattern show a solid yarn, I really enjoyed the flow of the variegated yarn I used.
Would I make it again?
Yes! I think this is a great shawl that I would wear frequently and can be either dressy or casual. I would also consider making it as a rectangular shawl with some pattern adjustment and would do it in either a solid, semi-solid or variegated yarn. I think a self striping yarn would be terrible, but if anyone has done it in a self-striping and loved it, I'd be fascinated to see the results!
---